Services
Vertical Blinds
Anusham Decors Vertical blinds offer unprecedented design freedom and have a vital hole in determinism and defining the overall look of your office and home Vertical blinds are practical, stylish and they offer great control over how much light is filtered into a room.
Features:

Head rail: 42mm x 35mm box section of Aluminum alloy to ensure strength rigidity and smooth operation.
Spacer: 80 mm spacers for perfect closure with fabric overlap of 20 mm. Components: Superior mechanism / components from Taiwan
Fabric: Extensive range in Translucent, Blackout, Dim-out and fire retardant fabrics. (Fabric width 100 mm)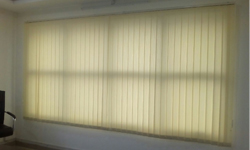 Roller Blinds (Plain and Printed)
Anusham decors : Wide range of Roller come with a choice of Translucent, Blackout, Sunscreen, Dim-out, Glass fiber and PVC screen fabrics to suit any interiors.
Roller Blinds are available in both operating Manual and Motorized (Somfy from France)
Printed Rollers collections from Nekha Blinds are available in floral, abstracts, Blackout, Translucent and sheer fabrics.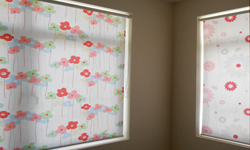 Bamboo Blinds
Naturals Bamboo blinds have been prepared from superior raw material from Bamboo which has been knitted perfectly with cord. All the designs created very smartly, which gives the option for making a beautiful look & sun control as well. It can be matched properly with interior also.
Available in to shades and width 4' , 5' & 6' which can be operated manual and motorized.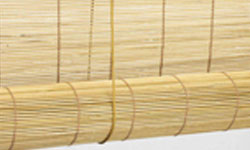 Wooden Venetian Blinds
Nekha Blinds offers Wooden Venetian Blinds with 35 & 50 mm wide slats. This product is available with standard cord operation as well as a motorized system for more comfort and control. Available in most inspiring colors, for different styles and trends to meet your preferences for your interior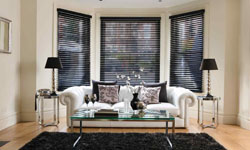 Triple Shade Blinds
Nekha Triple shade blinds is a light as silk decorative as a curtain and as practical as a venetian blinds. Open blinds give a softy filtered, unobstructed view through the window closed the offer total privacy and protection whilst allowing light to gently filter into the room. Combining the soft sheerness of a shade and the functional control of horizontal blinds, this blinds has a centre vane which can be adjusted to guarantee the perfect amount of light or privacy.
Triple shade blinds can be operated manual and motorized.
Triple shade blinds wonderful window covering system for residential and commercial.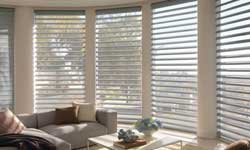 Zebra Blinds
It's to wonder they have such a unique design combining the soft flowing feel of custom sheers in a horizontal design with vanes that open and close for privacy and light control and when pulled all the way up disappear into a small designer head rail that allows a full view of your outdoors on nice days.
This version enjoys enormous owners with interior designers and home owners. We have a larger selection to colors and tones and vane sizes. Most people are only looking for neutral colors and the Zebra blinds has a nice selection to neutrals which is why the best choice for a sheer blinds. It's why the best choice for a sheer blinds. It's a very high quality sheer shade selling at an affordable price.
Tilt the blinds and you get warmly diffused light throughout the room. Tilt the blinds again and you get privacy without total darkness.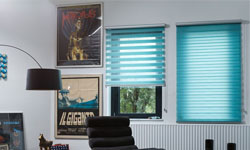 Roman Blinds
Roman Blinds are simple and functional window dressings that have stood the test in terms of style. Roman blinds represent stunning value for money and are available in great ranges of woos in addition to natural fabric the clean modern simplicity of Roman blinds has made them extremely popular.
Anusham Decors Roman blinds are made up of high quality components and hand finished to produce a professional look.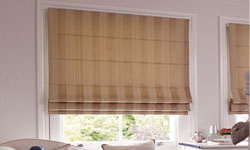 Curtain
Anusham Decors offers a wide range of Curtain fabrics in classic and modern styles to order all in the comfort of your home.
There is one part of the whole design that plays a significant in the comfort of your home and it is lives.
Home is the best place where you can have a rest, feel yourself comfortable, relax. Its interior is the very thing that reflects your mood, your character and makes the place where you live suitable for your needs.
The luxury curtain adds the beauty and style to your bedroom, makes the night hours pleasant and dreams sweet.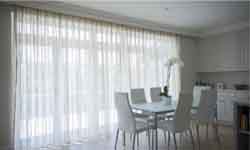 Wallpaper
We find great pleasure in introducing ourselves as the leading wallpaper dealer in Chennai. This is a very innovative collection from all over the world to transform your interiors beautifully and creatively in a to few hours.
Vinyl wallpaper 100% washable, colorfast, dust repellant, weather resistant, 7 – 8 years product life
We have 10,000 designs with 3D, Floral, Plain, Kids collection with Disney characters.
We serve a diverse array of customers from interior designers and Architects who are responsible for projects like villas, Apartments, Office spaces, Malls, Hospitals, Educational Institutions and Residences etc.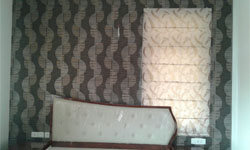 Monsoon Blinds
Monsoon Blinds are made of transparent PVC sheet. Monsoon blinds are for exterior we where you can save your inner porch from rain and wind without losing the natural beauty and view of your outdoor.
We use 5 mm thick PVC transparent sheet to make these blinds and components are made of stainless steel and dunlin. The head rail and ribs in between are made of anodized Aluminum for anti- rusting and durability.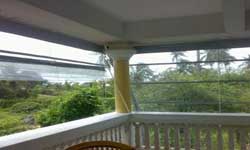 Mosquito Net (Roll On Insect Screen)
Anusham Decors provides you with innovative and contemporary roofing concepts called multi touch insect screen.
This system is recommend with wider screen Excellent safety and convenience opening and shutting with one system when close the insect screen drag down bottom bar to end the screen would be stop exact that point. When open the screen push down handle and the screen rolled up smoothly.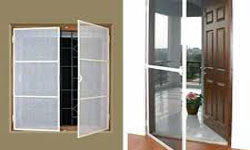 Polycarbonate Sheet
Anusham Decors is one of the professionally managed companies to offer high quality, specialized products and services to construction, industries and residences.
Our quality dictated corporate culture with our vision for excellence. Customer satisfaction delivered and exceeded the expectations.
Polycarbonate fixed awning trust work was using MS square tube and latest painting technologies.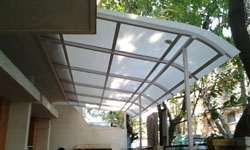 Rectractable Awnings
Introducing the retractable arm awning in its new avatar with excellent strength, finish and durability. Designed and engineered as per contemporary awning components manufactured and accepted globally, the components are made with high strength extrusions cut and finished to size. High quality dies are used to extrude the all new components for the Arm shoulder, side plates, Wall Clamps and Front Bar. All components are phosphate and powder coated white to give it a gleaming international look. Side plates, Tube endings and all bolts are covered with molded ABS caps that add beauty and compactness to the awning. Arm sizes available from (5 feet to 12 feet or 1.5m – 3.5m) for exports.
Retractable Awning Frame (5' – 7', 1.5m – 3.5m)
3 YEARS* WARRABTY ON ALUMINUM COMPONENTS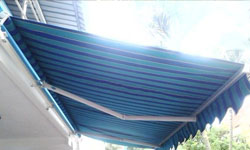 WOODEN FLOORING (Laminate Floors)
Laminate Flooring allows you to enjoy a wood – like floor without the actual use of any solid wood in its construction, allowing it to be move environment – friendly.
It is made up of 4 primary layers bonded together under pressure. A moisture resistant layer under HDF (High Density Fiberboard) ensures better life for of products. This is topped with a high resolution photographic image of natural wood flooring. It is then finished with extremely hard, clear coating made special resin-coated cellulose to protect the laminate floor.
Laminate wooden floors are easy to maintain as it doesn't require any waxes, polishes, detergents or abrasive cleaner.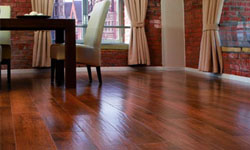 Wooden Roller Blinds
Made out of Natural wood and sticks available in various shades.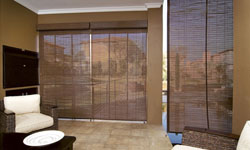 Vinly Flooring
Decorative solutions suitable for varying application and Industries like housing, Stores, Shops, Hotels etc,.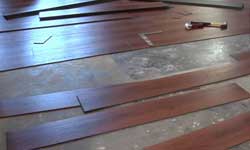 Carpet (Wall To Wall Carpet)
Wall to wall carpets enhances the décor of a room. They have very good acoustic hospitality. Industry without these types of carpets is virtually in complete. Ideal for guest rooms, public areas like corridors and banquets. The cozy decor in a bed room is highlighted by a good plush wall to way carpet.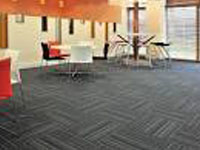 Upholestry
Essential to the interiors of any beautiful living space are plush Upholstery fabric to go in tandem with draperies. At linens and drapes we endear our to provide you with the best of cotton, silk, blends Upholstery fabric ranging from exquisitely woven jacquards to pre-fused tussah silks in vibrant shades
Cotton provides good resistance to wear and fading. Cotton is less resistant to selling and wrinkling. This weakness can be compensated by special treatments for surface or blending with other fibers. Cottons durability and usage depend on the weave and finish of the fabric.